Biography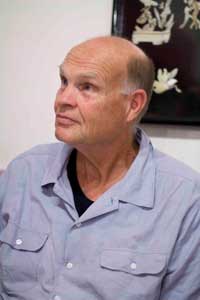 Jim Scott-Behrends began his study of the Internal Arts over thirty-seven years ago. He had the good fortune to study with some of the most knowledgeable Masters in the field of the Internal Arts.
In Yang style Tai Chi Chuan, Master Jim's main teacher was Master Kai-Ying Tung, a third generation Master who was instrumental in bringing Tai Chi to America. Master Tung's grandfather was the top disciple of Yang Chen-Fu, who was the grandson of the founder of the founder of Yang style. Yang Chen-Fu was the key to brining Tai chi to the general public in China.
Master Jim also trained with Master Wen-Mei Yu. Master Yu has been teaching Internal Chinese Martial Arts and Healing Arts for over thirty five years. She was recognized as the top instructor in Tai Chi in the Wushu Division of China in 1983. With Master Yu, Master Jim studied the complete Wu Tai Chi Chuan system and a variety of Qigong forms.
In the rare Nam Hoa Temple style, Master Jim studied over fifteen years with Internal Arts Grandmaster Kinh Nguyen. Grandmaster Nguyen (pronounced Winn) studied through China and Vietnam including the famous Wudang and Shaolin Temples. In 1996 Jim Scott-Behrends was awarded the rank of Master and lineage holder in the Nam Hoa Temple system. It is this system that is taught by Blooming Lotus Tai Chi instructors.
In 1994 after years of teaching in a variety of settings Master Jim developed an instructors training program in order to bring the benefits of the practice to a larger number of people. Master Jim currently lives and teaches in the Monterey Bay area of California.
In his course of his study and practice, Master Jim has benefited from many insights concerning the nature of the mind and body. As a result of his experiences and the support of his family, friends, and students, he has dedicated his life to sharing the great gifts of the Internal Arts Practice.