Biography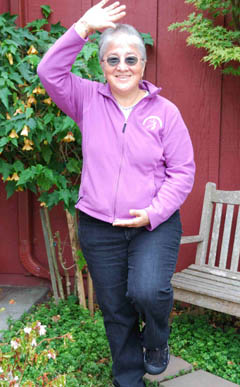 I began studying Tai Chi with Nam Hoa Temple Internal Arts Master Jim Scott-Behrends in 2000 in my hometown of Scotts Valley, Ca. I fell in love with this style of Tai Chi/Qi Gong because it integrated movement and mindfulness into one practice. I directly experienced improved strength, balance and a sense of well being because of my tai chi practice. I became inspired to teach Tai Chi after assisting my friend Mary Mulligan at her Senior Tai Chi class. I started my Nam Hoa Tai Chi instructor training in January of 2007. I received my instructor certification to teach the Longevity Tree Form in June of 2008, and certification to teach the Nam Hoa Yang Application Form in February of 2013 from Tai Chi Master Jim Scott-Behrends.
In November of 2011 I had the opportunity to study with Dr. Paul Lam who developed the internationally recognized Tai Chi for Health Programs. That November I attended his workshop Exploring the Depth of Tai Chi for Arthritis. In February of 2012 I received certification to teach the Tai Chi for Arthritis Form from Master Trainer Marty Kidder. In July of 2012 I received certification to teach the Tai Chi for Diabetes Form from Master Trainer Robin Malby. In December of 2012 I received certification to teach the Tai Chi for Arthritis Part 2 Form from Robin Malby. In January 2013 I had the opportunity to study Silk Reeling with Sifu Dan Jones. In October 2013 I received my update certification for the Tai Chi For Arthritis Form and studied the 24 Forms with Dr. Lam. In October of 2014 I received certification to teach the Tai Chi for Beginners Form with Dr. Lam. I attended the Weeklong 2015 Tai Chi for Health Conference where I took the Depth of Yang 24 Forms Course with Robin Malby. I received my update certification for TCA in March 2016 with Hei Takarabe. I received certification in the Tai Chi for Rehabilitation form, updated certification for Tai Chi for Beginners, and attended a Master Class in the 24 Forms with Dr. Lam in June 2016 and October 2017. I participated in the weeklong Tai Chi For Health Institute Conference studying the Depth of the Sun 73 Form with Bill and Linda Pickett in 2019 and in 2022.I have been studying with Sifu Hong Yang since 2018 for Sun 73 Form, Tai Chi Philosophy, Exploration of the Basic 13 movements in the 24 Form, Six Healing Sounds Qigong, and Peng Zu Qigong.
I have been a Tai Chi/Qigong instructor at Dominican Hospital's Personal Enrichment Program since July 2011. In person classes are currently on hiatus due to the Covid-19 Pandemic. I taught Tai Chi and Qi Gong at Mid-County Senior Center from September 2007-December 2016.
I have been fortunate to live near, study and practice with Master Jim-he imbues his teaching with kindness and generosity. He has helped me appreciate the presence of our teachers before him by living the embodiment of their teachings.
I live in Santa Cruz County, California. I am grateful to my husband, Tom Bush and our two grown sons David and Matt for their enduring love and support. I am retired from my job as a pediatric occupational therapist after working at Dominican Hospital for 18 years and Stanford University Hospital prior to that. As an OT I worked with adults in rehabilitation and acute care in my early career and later specialized in NICU OT. My hobbies are studying and practicing Tai Chi and Qi Gong, mindfulness practice, reading, bird watching, and photography.
I am available for consultation for corporate wellness events.
To contact me by phone call 831-227-7073, or email me at bloominglotuschi@baymoon.com